Yep. Just like Boomhauer pictured on the left, I also enjoy drinking a frosty cold beer outside with my friends while enjoying the Texas heat. But are Boomhauer and the rest of the King of the Hill crew above breaking the law? I get a lot of questions about public consumption of alcohol, so I wanted to write something to help everyone out.* Let's talk about drinking beer outside, y'all.
Consuming Alcoholic Beverages in Public.
Many people believe it's illegal to walk down the street drinking a beer in Texas. Contrary to popular belief, there is no general statewide prohibition on public consumption of alcohol in the Texas Penal Code. In other words, Texas law allows a person to drink a beer while walking down the street (or while standing in an alleyway) unless an exception applies.
The TABC notes two exceptions on its website, even though there may be more depending on the situation. For example, the law prohibits public consumption of alcohol in public places in state parks. Also, you can't drink booze in any specific area that a city has made it illegal to drink alcohol. This may include certain areas during special events, such as concert grounds or festivals. The TABC website on public consumption of alcohol can be a helpful resource when you have questions about drinking laws, such as which cities have banned public drinking in certain areas.
So Which Cities Have Bans on Public Consumption of Alcohol?
To ban public drinking, a city must request approval from the TABC under §109.35 of the Texas Alcoholic Beverage Code. Even if the TABC approves this request, it is not a complete ban across the city. Instead, cities can only ban public consumption of alcohol in the "central business district" area of the city. This means that cities can only ban in locations where 90% of the buildings are commercial, so a city can't ban public drinking in other areas like a residential neighborhood (e.g., the King of the Hill picture above, which means Boomhauer is legally entitled to finish that beer!).
The easiest way to check if there is a ban in your city is to look it up on the TABC website above. According to the website as of April 8th, 2014, here are the cities with orders against public consumption of alcohol:
Amarillo
Claude
College Station
Corpus Christi
Dallas
El Paso
Farmersville
Giddings
Groveton
Houston
Hubbard
Jefferson
McAllen
Rosenberg
San Angelo
San Antonio
San Marcos
Shamrock
Sinton
South Padre Island
Taylor
Timpson
Vernon
Let's use Dallas as an example. Below is the map that shows the portion of Dallas where public drinking has been banned, with the banned area highlighted in yellow: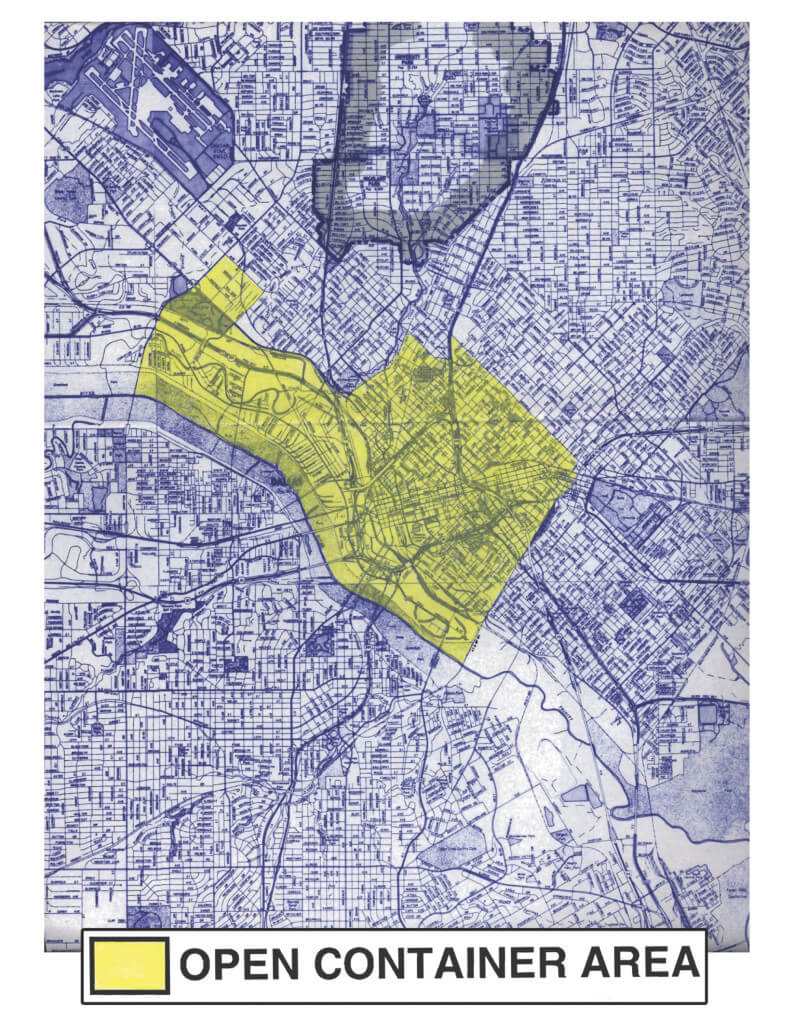 The highlighted yellow shows the area where public drinking is illegal in Dallas
Essentially, this means that there is no general ban on public drinking in Dallas exceptfor the portion in the map above that is highlighted in yellow. Thankfully, Fort Worth is not on the list, so there is no general ban in Fort Worth on public consumption of alcohol.
But before you hit the streets with your beer funnel and a sixer, there are some important exceptions and qualifications to the general rule. The exceptions from the TABC website I discussed above are not a complete list. For example, the TABC website doesn't mention that it is illegal to consume alcohol in most convenience store parking lots. They also don't mention that driving around with an open container is illegal or that you can't be intoxicated in public (even inside of a bar). These are just a few examples of why you should consult an attorney before relying on any discussion of the law on this or any other website.
One Final Point: Use Your Common Sense When Drinking.
One last point of great importance: just because something is technically legal does not necessarily mean it's a good idea. Cops don't know every criminal law or the intricacies of how they are applied; even criminal lawyers look up statutes and case law on a daily basis. You may be legally entitled to drink a beer in public, but most folks don't do it, so it might draw attention to yourself and raise a red flag to a cop to investigate you for a public intoxication charge. If you're over 21, enjoy your beer just like Boomhauer, but understand the risks of public drinking-and educate yourself on your rights when dealing with police: www.TexasLawHawk.com/your-rights/.
For you visual learners out there, here is a chart that summarizes this post: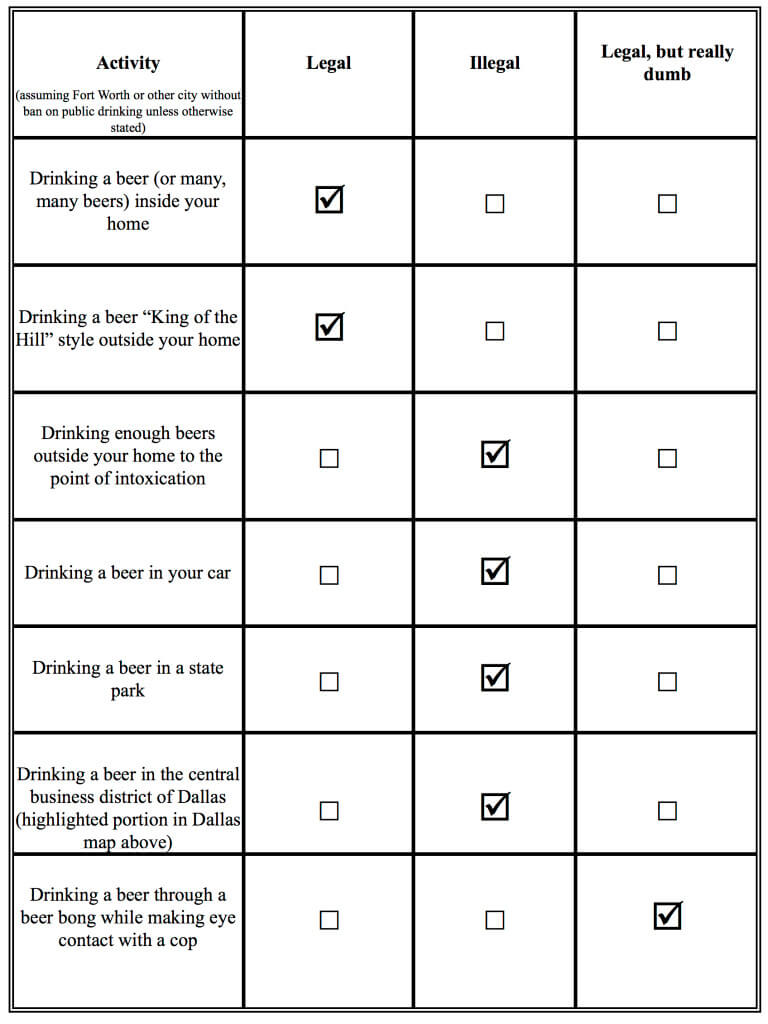 Know your rights. If you've been arrested for drinking, that doesn't necessarily mean you are guilty. You are presumed innocent until proven guilty. After an arrest, you need a criminal defense attorney who knows the law and isn't afraid to fight back.
*Since we are talking about drinking, here's a quick disclaimer: nothing in this post (or on this website) is legal advice. I write my impression of the law, but that doesn't mean that you should apply these legal principles to your situation. Your facts might be (and probably are) different than the examples above, and would command different advice. It is against the law to consume alcohol if you are under 21 years of age. Talk with an attorney before you rely on anything in this post or other portions of this website.